What To Do After Buying Your New Home
4/26/23 | Lindsie Wharff, Marketing Specialist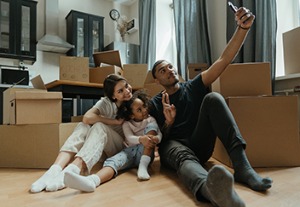 It's an exciting feeling to finally receive the key to your new home and start exploring all the possibilities. Don't forget about the important steps you need to take to ensure a smooth transition into your new home. Here's a list of 10 things to do after purchasing your home. From planning your move-in day to reviewing home insurance and warranties, we've got you covered.
Budgeting for Move-In Day

Moving is considered one of the top stressful moments in a person's life. Whether you're moving yourself or using a moving company, the stress can be overwhelming. Moving represents a new chapter of your life. Here are some tips that can make moving less nerve-racking.
Take a quick inventory of the items you currently have.
Donate items you no longer need.
Ask around for boxes before purchasing them.
Try to avoid moving during moving season, Spring and Summer.
Do your research on current moving rates so you can choose the best service based on your budget.
Updating Utilities
Updating utilities when moving into a new home is an essential task to ensure a smooth transition. It guarantees that you have access to electricity, gas, water, and internet, and helps you save money. Check your monthly bills for any unnecessary charges or overage fees and adjust your usage accordingly. Consider using energy-efficient products such as LED light bulbs, programmable thermostats, and low-flow showerheads to further reduce your utility costs. By being mindful of your utility usage, you can save money while enjoying the comforts of your new home.
Clean It Up
A new home is like a blank canvas, there is so much potential. Before you can have fun, it's important to give your house a deep clean. Move-in cleaning can be difficult, but with a bit of elbow grease your place can look shiny and new. Here's some tips to help:
Clean from top to bottom
Make sure to clean all ceiling fan blades
Start with the fridge in your kitchen
Focus on disinfecting the bathroom
Go item by item working your way down. Start with lighting fixtures, light switches, etc
Finish with the floors
Time to Decorate and Organize
Personalizing your home is one of the more fun tasks on this list. Like cleaning, it's important to be methodical with your process.
Start with a plan:
Before buying your furniture and décor, make a plan for each room. Consider the color scheme, style, and layout you want to achieve.
Take it one room at a time:
Decorating your entire home all at once can be overwhelming. Take it one room at a time and give each room your full attention.
Mix the old with the new:
Finding those thrifty pieces will help you not break the bank. Mix and match old pieces and new ones to give your house a well-rounded look. Add personal touches to your décor, personal items, and mementos to make your home feel more unique.
Play with different textures:
Mix different pillows, rugs, and curtains. They'll add depth and interest to the room.
Don't forget about lighting:
Mix overhead lighting with table lamps and floor lamps to create an inviting atmosphere.
Get inspiration:
Check out home décor magazines, Pinterest, and Instagram for ideas.
Hello Neighbor!
Meeting your new neighbors when you move into a new house is important for several reasons. Not only does it create a sense of community, but it can also be helpful to have friendly neighbors nearby. They can provide you with recommendations for local services and businesses, help you feel more secure in your new home, and even become good friends. To break the ice, consider hosting a small gathering or inviting your neighbors for a meal. You could also start with a simple introduction while outside gardening or walking the dog. Remember, a friendly smile and a warm greeting can go a long way in building new connections. Taking the initiative to get to know your neighbors can lead to a happier and more fulfilling living experience.
Moving into a new home can be an exciting experience. Taking the time to prioritize important tasks such as updating utilities, decorating your new space, and meeting your new neighbors can make the transition much smoother. By following these tips, you'll be well on your way to creating a comfortable and welcoming home that you can enjoy for years to come. Don't be afraid to ask for help from a neighbor or a professional. Take the time to appreciate your new home.
ABOUT THE AUTHOR

Lindsie Wharff is a Marketing Specialist at Altabank. She specializes in social media and marketing content and enjoys helping people learn more about their finances.