What is a Checking Account and Why Do I Need One
2/14/23 | Lindsie Wharff, Marketing Specialist
What is a Checking Account?
Checking accounts offer a variety of benefits and services. These flexible accounts allow numerous withdrawals and deposits and are typically accessed using checks, ATM machines, or debit cards.
What is a Checking Account Used For?
Checking accounts are a secure and convenient place to store money with easy access to your funds. Often, individuals utilize the direct deposit feature to receive paychecks automatically to the account. Direct deposit paychecks are received earlier than mailed checks and are immediately accessible once they reach the account. Online and mobile banking also offer automatic bill payments as well. Today, there are numerous digital wallet applications available on smartphones that connect directly to deposit accounts. They allow individuals to make contactless transactions in-store, online, and in-app to avoid using cash or card. Checking accounts are stable and allow consumers to manage their budget and financial duties easier.
How do I choose a checking account?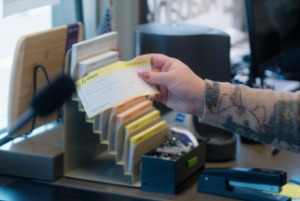 Here are things to consider when opening a new checking account: 
Are you looking for an account with interest? Some checking accounts do offer interest, and some do not. Research what interest rates are offered.
Are you concerned about fees and minimum balances? Check if the account has monthly service fees or a required minimum balance.
How close is their ATM Network ? If you are constantly paying cash, you may need to access an ATM or visit a branch to withdraw money. Using your bank's network of ATMs will allow you to avoid accruing any ATM fees.
Does the account offer any mobile features? Mobile apps allow you to access your account from anywhere, especially if you're on the go. If anything happens to your card or account, it's important to have access to "locking" or "freezing" your account. You may also want to consider what digital wallet features are available.  
How do I set up a checking account?

Once you've selected the right checking account option for you, you will need to set up an  account. You can visit us in branch, or www.altabank.com/personal-banking/checking to begin the application process. Banks require individuals to be at least 18 years old, a US citizen, and the ability to communicate electronically. However, parents or guardians can set up accounts for minors. They will need to see state issued identification like your driver's license, military ID or passport. You will also need to provide your US Social Security Number or TIN number. Remember to also bring an initial deposit. If you already have another personal account from another financial institution, visit us in the branch and our customer care team will be glad to assist you.
How can I manage my checking account?
You can manage your account by:
Downloading Altabank's smartphone app
Staying up-to-date on your account balance
Setting up direct deposits and automatic bill payments.
Avoiding all potential fees.
What Checking Account is right for me?
Altabank offers multiple types of checking accounts

1. Totally Free Checking
This is one of our most popular options. It's a free, non-interest checking account. There is no required minimum balance or monthly service charge. The bank provides image-based statements so that you can stay on top of your transactions. 

2. Easy Interest Checking
This option allows free checking with the convenience of direct deposit or automatic loan payment and monthly compound interest. Like our Totally Free Checking, there is no required minimum balance or monthly service charge. Image-based statements are included.


3. Premier Interest Checking

A checking account with monthly compound interest. There is a minimum balance requirement of $1500. If the balance falls below the required amount there is a $6 service charge. Image-based statements are included. Account holders also receive 1 box of free bank checks per year.


4. 50+ Interest Checking
This is free checking for customers 50 and older, with monthly compound interest. There is no minimum balance or service charge. Image-based statements are included. Account holders also receive 1 box of free bank checks per year.
 
All of these accounts have access to online and mobile banking, as well as our smartphone apps. We offer free online bill payments, a free Visa debit card, unlimited check writing, a free online budgeting tool, among other services. However, the best benefit of our checking accounts are the trusted employees readily available to answer your questions!

Author: Lindsie Wharff is a Marketing Specialist at Altabank. She specializes in social media and marketing content and enjoys helping people learn more about their finances.