Tackling Tailgating and Game Day Expenses
8/28/23 | Lindsie Wharff, Marketing Specialist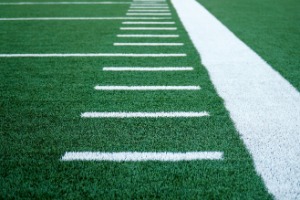 Football season is upon us! From energizing tailgate parties to scoring affordable tickets and game-day essentials, we've got your back on how to make the most of football season without draining your wallet. Here is our playbook for tackling game-day expenses:
Planning on going to the game?
Tailgating Tips:
With some planning and creativity, tailgating on a budget can still be a fun experience. Here are some tips to help you tailgate on a budget: 
Plan Ahead: Start planning early to take advantage of sales and discounts. Create a budget and stick to it, allocating funds for food, drinks, and other necessities.
Potluck Style: Invite friends to join you and have everyone contribute a dish. This not only reduces costs but also adds variety to the menu. Coordinate who brings what to avoid duplication.
Simple and Affordable Menu: Opt for budget-friendly foods that are easy to prepare and serve. Hot dogs, burgers, sandwiches, pasta salads, and chips are cost-effective options that are always crowd-pleasers.
DIY Drinks: Instead of buying individual drinks, consider bringing large containers of homemade beverages like lemonade, iced tea, or fruit punch. This is much more economical than purchasing individual bottles or cans.
Focus on Essentials: Prioritize what you truly need for a successful tailgate. Fancy decorations and extravagant setups might be lovely, but focusing on the basics can help you stick to your budget.
Reusable Tableware: Use reusable plates, cups, and utensils instead of disposable ones to save money and reduce waste.
Carpooling: Coordinate with friends and carpool to the tailgating location. This reduces fuel costs and ensures everyone can contribute to shared expenses like parking.
Budgeting on Tickets, Merch, and Concessions:
Attending football games and buying related merchandise and concessions can be exciting but expensive. Here are some tips that can help you save money while enjoying the experience:
Do your research. Check out the game schedule and plan which games you want to attend.

Set a cash budget for concessions and merchandise. When the cash is gone, you'll be less likely to overspend.

Compare prices from different sources, be cautious of scalpers, but consider buying tickets closer to the event date.

Consider purchasing merchandise online or during off-season sales when prices may be lower.

Consider sharing the costs with friends or family. This can also help you save on transportation, parking, and concessions.

If possible, eat before the game to avoid spending much on concessions. If you need to eat at the game, check the menu in advance and budget accordingly.

Take a moment to think before making a purchase. This can help you avoid buying items you don't need.
Planning on Staying Home?
Attending the game in person has its charm, but staying home and celebrating it can offer many benefits. In addition to the budgeting principles mentioned earlier, there are several advantages to staying home and enjoying the game from the comfort of your own space. There's no need to purchase tickets or pay for parking. Watching the game from home means you can enjoy the game from the comfort of the couch. There are no bad seats. You can be in control of your menu options. Whether you tailgate at home or hit the stadium, the goal is to make the most of football season while keeping your excitement and budget intact!
Football season is all about celebrating and bonding with fellow fans. By planning ahead, making strategic choices, and setting a clear budget, you can enjoy every touchdown without the stress of overspending. With the right financial game plan, you'll be the champion of your budget this football season!
ABOUT THE AUTHOR
Lindsie Wharff is a Marketing Specialist at Altabank. She specializes in social media and marketing content and enjoys helping people learn more about their finances.