Altabank™ Conducts Yearly Book Drive for Primary Children's Reach Out and Read Program

Altabank™, Division of Glacier Bank and Utah's largest community bank, is supporting Intermountain Healthcare by organizing its third annual Reach Out and Read (ROR) Book Drive. This year's book drive will take place from Monday, Nov. 28 – Friday, Dec. 30, 2022 at all 24 Altabank locations.

The Reach Out and Read program, which helps children ages six months to five years old, encourages language-rich interactions that improve communication skills, curiosity, memory, patience, empathy and literacy. It also promotes reading as an opportunity to encourage nurturing relationships and resilience in children and families.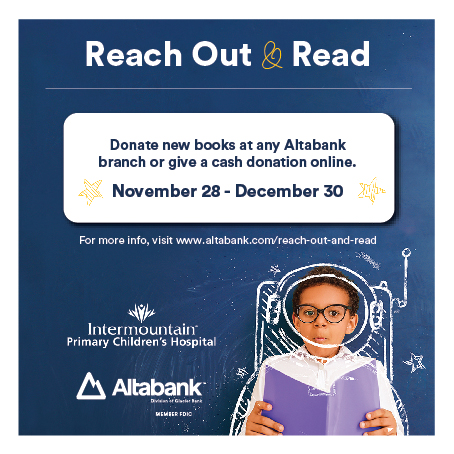 The program includes giving an age-appropriate book to children during all well-child visits from six months of age to five years old; a total of nine visits as a child grows and develops through those critical early years.
"Reach Out and Read is all about unleashing the joy and potential of each child," said Neal Davis, MD, medical director of pediatric community care for Intermountain Healthcare and ROR champion. "Reading with and to children literally builds health, resilience, and wellness in the life of a child."

Altabank understands that healthy, resilient children contribute to healthy communities, and shares Intermountain Healthcare's passion for helping children grow and thrive. That is why, in 2020, Altabank began to support the Read Out and Read program with a 5-year, $500,000 funding commitment.

"Remember the books that meant something to your children or to you when you were a child? Those are the perfect books to donate during the ROR book drive," says Stan Sorensen, chief marketing officer at Altabank. "Because ROR touches children from many backgrounds and ethnicities there is a particular need for books that show cultural differences and are multilingual."

To participate in the book drive please bring books appropriate for children six months to five years of age to any of Altabank's 24 branches from Preston, ID to St. George.