On Earth Day, Altabank Teams Up with Real Salt Lake for Great Salt Lake Conservation
The first Utah bank to financially back Great Salt Lake conservation efforts furthers commitment with "Saves for the Great Salt Lake."
SALT LAKE CITY—April 24, 2023—This Earth Day at Real Salt Lake's home match against the San Jose Earthquakes, Altabank™, Utah's largest community bank, announced its commitment towards Great Salt Lake conservation efforts. Real Salt Lake and Altabank have teamed up to further bring awareness, and support to this community initiative.  "Saves for the Great Salt Lake" promises to donate $100 to Great Salt Lake conservation efforts for every save made by a Real Salt Lake goalkeeper during the 2023 MLS season.
This new collaboration with Real Salt Lake comes in addition to Altabank's support for other important Great Salt Lake protection efforts. The bank recently announced a $50,000 commitment, directing $25,000 to facilitate water transactions and projects to improve Lake water levels, through the Great Salt Lake Watershed Enhancement Trust, co-managed by The Nature Conservancy (TNC) and National Audubon Society, and $25,000 to Great Salt Lake protection projects led by TNC.
"The Great Salt Lake is a vital resource for all of Utah. We are proud to put resources to work in support of the effort to restore the lake," said Terry Grant, president of Altabank. "We also want to do our part to keep focus on the lake throughout the year.  Our partnership with RSL led to the creation of Saves for the Great Salt Lake."
Altabank is the first Utah bank to make a significant monetary contribution to Great Salt Lake conservation efforts, setting an example that they hope other Utah businesses will follow.
The Great Salt Lake has dropped below historically low water levels, threatening the health of people living along the Wasatch Front, the future of key Utah industries, and the survival of millions of migratory shorebirds and other wildlife.  And while water levels have risen as a result of this winter's record snowfall, fully restoring the Lake is a sustained multi-year project.
"This is a critical time for the Great Salt Lake and for all Utahns," says Dave Livermore, State Director for TNC in Utah. "TNC is grateful to supporters like Altabank who are stepping forward to help us safeguard Utah's most vulnerable lands and waters."
Altabank's efforts on behalf of the Great Salt Lake are part of its ongoing commitment to Utah's natural world. The bank is also donating funds toward TNC's work in building hiking trails and developing interpretive signs that will enhance visitor experiences at its new 419-acre Sheep Bridge Preserve in Washington County, Utah. The preserve supports two miles of the Virgin River—a river segment that has been called out as one of the most pristine stretches in the American Southwest.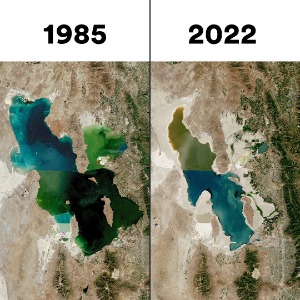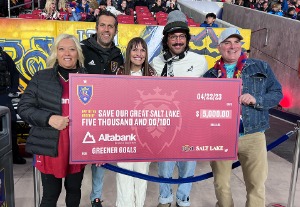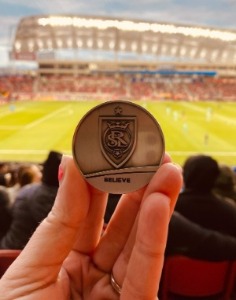 Content viewed through this YouTube video player may be managed and owned by third parties not affiliated with or endorsed by Glacier Bank. Glacier Bank is not responsible for any such content that is managed or owned by unaffiliated third parties.
####
About Altabank
Altabank™, Division of Glacier Bank, is the largest community bank in Utah with 25 retail banking locations from Preston, ID to St. George, Utah.  A full-service bank, Altabank provides loans, deposit and cash management services to businesses and individuals.  Altabank's clients have direct access to bankers who to work understand their specific needs and offer customized solutions designed specifically to meet them.  Altabank is a division of Glacier Bancorp, Inc., a regional bank holding company providing commercial banking services in 144 communities through 224 banking offices in Montana, Idaho, Utah, Washington, Wyoming, Colorado, Arizona, and Nevada.
About The Nature Conservancy in Utah
From Salt Lake City to St. George, The Nature Conservancy has been protecting Utah's unique natural resources since 1984. Guided by science, we create innovative, on-the-ground solutions to the world's toughest challenges so people and nature can thrive together. Working with partners, we are tackling climate change and conserving land and water at an unprecedented scale. We engage community members to help make a difference in our natural world to maintain our high quality of life.