Cycling for All with Wasatch Adaptive Sports and Altabank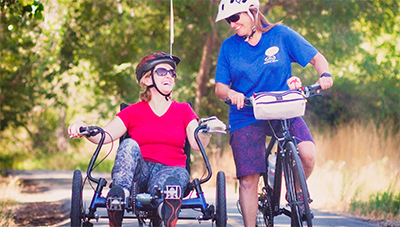 Ever thought about how you would ride a bike if your legs didn't work? What about skiing or paddleboarding? All these activities are possible for people with adaptive needs through Wasatch Adaptive Sports. WAS makes outdoor recreation both accessible and affordable for people of all needs and ages who wouldn't otherwise be able to participate in these fun outdoor activities.
Wasatch Adaptive Sports provides a variety of summer and winter programs. Their summer programs include cycling, mountain biking, paddle boarding or kayaking, and yoga. They also have winter programs including skiing and snowboarding, snowshoeing, yoga, and virtual spin classes. WAS provides a robust scholarship program so participants can join in the activities relatively without cost.
Altabank™ is a sponsor of Wasatch Adaptive Sports and specifically supports the summer cycling program. Altabank's sponsorship helps WAS provide a variety of adaptive bikes for cycling including handcycles, trikes, or recumbent bikes. Each year WAS hosts events for group rides on paved trails, group mountain bike rides, and even ladies group rides.
Wasatch Adaptive Sports always welcomes volunteers, so if you feel the need to get outdoors and help people, WAS has great opportunities to do both. Check them out online at www.wasatchadaptivesports.org. Catch Altabank and WAS at the Real Salt Lake game on Saturday, June 25 to check out the cool adaptive bikes and programs that WAS offers.
Photo courtesy of Wasatch Adaptive Sports.