Celebrating the Journey of Altabank
7/21/23 | Lindsie Wharff, Marketing Specialist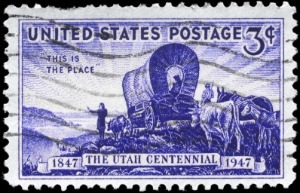 Pioneer Day is here once again. It's a great time to reflect on the remarkable journey of Altabank within our beloved Utah community. Our rich past with our predecessors, Bank of American Fork and Lewiston State Bank, is worth celebrating! Let's uncover the roots of Altabank's history and dive into the importance of heritage and legacy. 
History of Bank of American Fork
Over the years, the Bank of American Fork has experienced numerous milestones and transitions, each contributing to its legacy:
1910s: In 1913, the People's State Bank of American Fork was incorporated with John F. Noyes as its first president, marking the beginning of a remarkable journey.
1920s: Over the years, the bank experienced growth and changes, moving to its current location on 33 East Main Street.
1950s: The bank committed to progress and customer service and remodeled branches introducing innovative services like walk-up and drive-up windows.
1960s: The bank appointed its sixth president, Orville Gunther, known for his dedication to fairness and reasonable profits.
1970s: The bank embraced modern banking by joining the Walker Bankard Service and offering 24-hour ATM services at the Alpine branch.
1980s: The bank saw further development by establishing a marketing department.
1990s: Bank of American Fork expanded its reach, opening multiple branches and embracing online banking. As the new millennium began, the bank continued to open additional branches.
History of Lewiston State Bank
1900s: Lewiston State Bank was incorporated in 1905 and steadily grew its deposits and shareholders over the decade.
1910s: The bank experienced a change in cashiers and witnessed substantial growth in capital and resources, despite facing challenges during World War I and the subsequent economic downturn.
1920s: The Great Depression began in 1929, marking a difficult period for many banks, but Lewiston State Bank remained open and operational.
1930s: The bank faced significant financial hardships during the Great Depression, resulting in the resignation of a longtime vice president and the suspension of dividends.
1940s: Leadership changed as the Bank's President passes away, and a new President is appointed, guiding the bank through the challenges of World War II.
1950s-1980s: The bank overcame the Great Depression and World War II, by appointing new leadership, and experienced steady growth in total resources.
1990s-2010s: The bank underwent a merger, experienced substantial growth, and 
expanded further. Opening new branches in Preston, ID, and Tremonton, UT, continuing its commitment to serving the Cache Valley community.
 Today We Are Altabank
The merger of Bank of American Fork and Lewiston State Bank in 2019 forged a legacy built on trust and dedication. At Altabank, we believe in people-centric banking, serving our customers, communities, and employees with exceptional financial services and care. Committed to making a positive impact, we provide accessible financing, financial education, and community reinvestment. Our extraordinary team of associates brings our values to life, offering extraordinary customer service and a genuine interest in customer success. We take immense pride in our "Vision, Purpose, and Values," shaping our mission and defining our Altabank culture.
The Importance of Heritage and Legacy
Altabank's legacy is intertwined with its employees and their families' personal stories and contributions. One of Altabank's employees, Robert Stephenson, shared his legacy within the bank:
Robert explained, "My Grandma, LaRue Stephenson, was an Assistant Cashier during the 60s and 70s. My Mother, Vicki Stephenson, worked as a teller in back-office processing. I started as a teller in 1998 and now hold the role of IT Manager, supporting Altabank and other divisions in the western states."
He explained the values inherited from Lewiston State Bank: "I keep a plaque from the LSB (Lewiston State Bank) days. Vision - To become the most distinguished provider of financial services in the intermountain west. Purpose - We exist to strengthen individuals and communities by providing safe financial services with exceptional care. Values - We care. We are safe and sound. Integrity is absolute. We are professional in every way."
Robert emphasized, "Our focus has always been customer service. Whether it's supporting our direct banking customers or supporting our team and other staff members, their needs always come first. If I don't know how to solve a problem, I will find someone to follow it through."
As we celebrate Utah's heritage on July 24th, Robert reflected, "We also acknowledge the remarkable legacy of Altabank. From the humble beginnings of Bank of American Fork and Lewiston State Bank to the united force of Altabank today, this institution's journey testifies to the enduring spirit of community, integrity, and dedication. Rooted in history and committed to its values, Altabank continues to impact the lives of those it serves in Utah and beyond."
At Altabank, our commitment to the people and businesses of Utah has always been unwavering. As we embrace our shared history with the Bank of American Fork and Lewiston State Bank, we take immense pride in the fact that our values have remained at the core of everything we do. From the earliest days of our inception to the present, we have prioritized integrity, trust, and personalized service. As we continue to grow and evolve, these values stand as a testament to our dedication to the communities we serve.
Lindsie Wharff is a Marketing Specialist at Altabank. She specializes in social media and marketing content and enjoys helping people learn more about their finances.