Back-to-School Budgeting for Grade School Students
7/21/23 | Lindsie Wharff, Marketing Specialist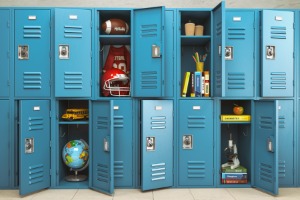 Back-to-school season can be exciting for kids as they gear up for a new school year. Besides the joy of reuniting with friends and teachers, it's also a great time for kids to take control of their finances and learn the value of saving. Parents can empower children with money skills that will serve them well throughout life by teaching them to save for back-to-school expenses. This article explores practical and fun ways to help kids save for various back-to-school essentials.
K-12 Students
Kids in grade school may not have to worry about complex budgeting. Still, it's important to introduce them to basic financial concepts and encourage responsible money habits from an early age. Here are some school-related expenses that elementary kids might need to consider when managing their money:
School Supplies
: Children may need to budget for basic school supplies like notebooks, pencils, erasers, and rulers.
Look out for back-to-school sales, which usually offer great deals on school supplies.

Make a list of necessary items and focus on buying those first before considering any non-essential items.
Backpack:
A durable backpack is essential for carrying books and supplies to and from school.
A durable backpack might cost more upfront but can save money in the long run by not needing frequent replacements.

Teach kids to take care of their belongings to extend the backpack's life.
School Photos
: Budgeting for school picture day might be necessary if parents opt to purchase photo packages.
Choose a smaller photo package or only select the essential prints to save on costs.

Some photographers offer digital copies, which can be more affordable than printed packages.
Lunch Money:
School lunch is not free. Kids might need to budget for buying lunch at the cafeteria.
Preparing and packing lunches from home can be more cost-effective than buying from the cafeteria daily.

Set a daily or weekly budget for lunch money and encourage kids to make wise choices within that budget.
Field Trips:
Occasionally, there might be educational field trips that require some money for admission, transportation, or food.
Be aware of upcoming field trips and start saving early to avoid last-minute financial strain.

Encourage kids to participate in school fundraisers to help offset the cost of field trips.
School Events:
Fundraisers, school fairs, or special events may require some pocket money for participation.
Encourage kids to set aside a portion of any pocket money or allowance specifically for school events to avoid overspending.
Extracurricular Activities:
If the child participates in after-school clubs or activities, there could be costs associated with joining or participating.
Encourage kids to select activities they are interested in to get the most value from the investment.

Some schools or community centers offer free or low-cost extracurricular activities.
Gifts for Teachers:
Some kids might want to buy gifts for their teachers on special occasions like Teacher's Day or holidays.
Encourage kids to get creative and make heartfelt, handmade gifts for their teachers instead of buying expensive items.
It's crucial to teach kids about saving and prioritizing their spending to help them make informed choices about how to use their money wisely. Additionally, parents can encourage them to save a portion of their allowances or gifts they receive for more significant items or future expenses. Budgeting can be a valuable life skill when introduced simply and age-appropriately early.
Lindsie Wharff is a Marketing Specialist at Altabank. She specializes in social media and marketing content and enjoys helping people learn more about their finances.