Black-Owned Small Business Contest Nominees
2/22/2021
Highlighting the top Utah small business nominations for Altabank's social media contest.
In honor of Black History Month, Altabank held a social-media-based contest for Black-owned small businesses in Utah and Idaho through the month of February. With an overwhelming nomination response, the competition for top five was fierce. The first round of voting took place last week and we were able to narrow down our top five. The second round of voting is currently live on our social media pages (
@altabankusa
) through Friday and will ultimately decide the winner.
Below is a compilation of the top five nominated businesses in addition to all other nominees. Descriptions and photos were provided by each business. The top five businesses are listed in alphabetical order.
A special thanks to Utah Black Chamber (
@utahblackchamber
) for its support in this contest.
Altabank Top Five


Empire Body Waxing was founded in 2020 by Avery Brush and Jenna White. Both women had been in the waxing industry for years, but they had a vision for a company that did more than just waxing. Avery and Jenna wanted to grow people and give back to their communities in Salt Lake City and St. George, Utah.
Offering affordable Waxing for everybody Empire takes pride in its proprietary technique and high-quality wax. Check out their 5-stars on Google or follow them on Instagram @empirebodywaxing.SLC or @empirebodywaxing.stg.
Each year, Empire Body Waxing chooses a local non-profit to support as a way to connect with the communities that continue to raise them. They call this the #EmpireEmpowers Initiative. For 2021 EBW is donating to the Utah Association of Family Support Centers.
If you appreciate your dollar going further Empire Body Waxing is the place for you.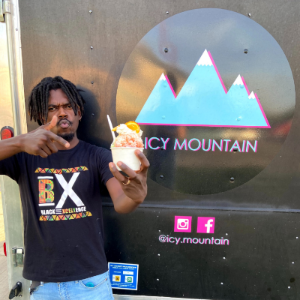 Icy Mountain is a small shaved ice business that opened its windows in July of 2019. The dream? To sell the most boujee, best tasting shaved ice in Utah. Icy Mountain stuffs their shaved ice with ice cream and tops it off with sweetened condensed milk, whipped cream, fresh fruit, and candy. They also provide dairy-free options for all of the above, and serve their ice with compostable cups and spoons. They love going to events all over Utah, meeting new friends, and giving back to the community. Icy Mountain will be opening up a store in Millcreek at the beginning of summer as they continue to work hard and make their dreams come true.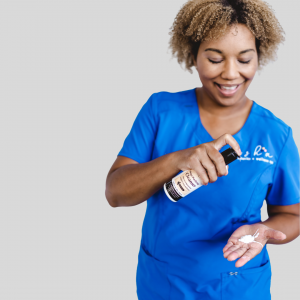 Isha Esthetics and Wellness is Utah's Award-winning premier Recovery Spa! Located in Murray, UT in the historic Ivy Place but proudly serves clients beyond! We provide care and comfort for any stage of the wellness journey which includes, but is not limited to; Skincare, postpartum care, and post plastic surgical care. Our team of trained caring and compassionate beauty and wellness professionals take pride in bringing comfort back to the care process.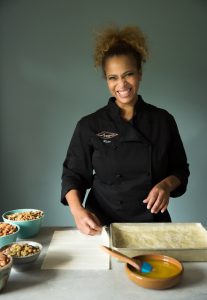 Rita Magalde started Sheer Ambrosia Bakery in October of 2008 after selling her 50% interest in another business she owned for 10 years. Rita's love affair with baklava started long before she established Sheer Ambrosia. It all began as a hobby over 30 years ago when she was 16 years old working for a Greek family in North Carolina. She learned how to make many Greek pastries but her heart has always been with the baklava more than anything. Rita considers baklava to be more than just a baked good, she believes her creations are more like edible art. She has expanded from just carrying her Traditional Honey Walnut flavor to 12 richly decadent offerings that all have a story behind them. She shares her stories every month when she delivers to her Baklava of the Month Club customers.
Rita currently runs her business out of her home under the Cottage Food Program through the Department of Agriculture but has hopes of expanding into a manufacturing facility where she can create her line of products and sell to her loyal online family of customers on a much bigger scale. Rita is a single mother of two who is a firm believer in entrepreneurship, the power of the mind and all it's capable of doing if you just focus and dream big. Sheer Ambrosia Bakery and Rita have been featured on ABC 4 Utah's Good Things Utah, Park City TV, The Salt Lake Tribune, countless magazines, and most recently they have been featured in three installments on National Public Radio's Marketplace with Kai Ryssdal.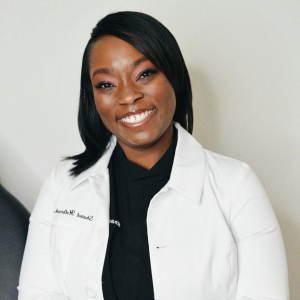 Solé Ré Aesthetics is the premier location for cosmetic injectables, which includes Neurotoxins and Dermal Fillers. We specialize in helping women of all shades feel more comfortable in their skin and work to enhance your natural beauty. At Solé Ré, we bring cosmetic injectables (BOTOX®, Dysport®, Juvederm® and Restylane®) directly to you whether that is at your home, office or at our location in Murray, UT. In no time, you will feel beautiful, confident and empowered to take on the world.
Other Nominees
Bassix Studios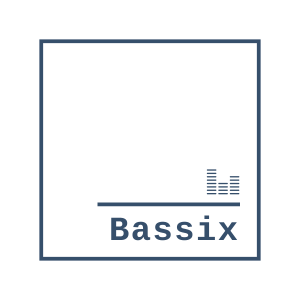 Bassix is about helping creators/artist/musicians have the resources & community they need to be successful. Bassix provides a music studio as a central mechanism to those in the Salt Lake City area. We are the official studios of Mac Life based in Vallejo, CA. At Bassix Studios, we have been blessed to work with some of the most talented musicians & creators of the arts in the Salt Lake City area ever since our doors opened back in September of 2020. Please get to know our teammates as we value collaboration over competition.
Visit Bassix Studio's website for more information.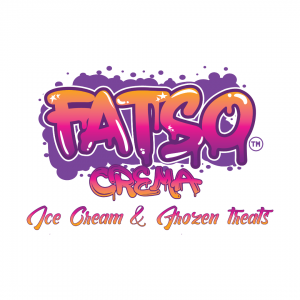 At FATSO Crema we focus on Ice cream and frozen treats! The things that inspire the unique flavors and names are a nod to the past and present, childhood nostalgia, music, and movies to weird adult present-day internet references. From all that I've been able to create something comforting and delicious for all you guys as well as discovering a little bit of myself in the process.
It started as simple as a friendly favor then transitioned to other FATSOs asking "how much do I owe you?" Then being acknowledged by a local magazine! We're still small and plan on growing in size but keeping it humble and never changing nor forgetting where we started!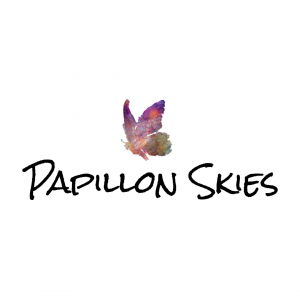 I've always been a creative — forming businesses, drawing, writing poetry, singing, and playing guitar. 2019 was "the best of times and the worst of times," when I experienced six traumas and two major life changes within six months, so I came into 2020 ready to take it by storm. Then injustices with Breonna, Ahmaud, and George happened on top of being told to work from home for what many of us thought would only be one to two months. Between the protests and generational trauma in conjunction with being in an economic downturn and global pandemic, I was crying at random moments for the first few months because the Black deaths kept piling up. And, I knew that it could have been me or a family member or friend. It was suffocating, so I turned to art.
Papillon Skies was birthed through the processing of emotion work and healing through collective tragedy within the Black community. Creating art gave me phoenix wings, and my hope is that others will see themselves in my work and connect to the stories behind each piece. My primary mediums are acrylic, digital, and mixed media. My artistic style is abstract, impressionism, and illustration.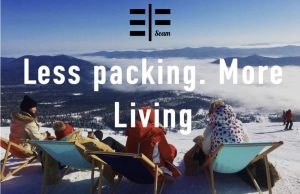 Seam gifts travelers with convenience. We alleviate the hassles of packing and traveling with luggage by delivering rental attire to our customers' hotel closets. We offer an online closet of established clothing brands and a delivery service that gets those rental outfits to the hotel closet before travelers arrive. Currently, we offer winter attire and ski/snowboard attire to keep travelers warm on our beautiful Utah mountains.
The travel experience is hindered by the outdated practice of packing, not having the best outfits for your itinerary, taking time to buy more clothes to fit that itinerary, hauling baggage throughout the trip, paying for baggage fees, and having to do all of the laundry once you arrive back home. Plus we are proud to contribute to circular fashion and help consumers avoid one-off purchases that would contribute to unsustainable fashion practices.