Biden-Harris Student Loan Forgiveness: How to Pay Off Debt Fast
8/22/23 | Kinsey Love, Digital Marketing Manager
Biden-Harris Student Loan Forgiveness: Do You Qualify?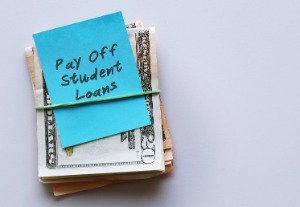 If you're unsure of the latest development with student loan forgiveness, you are not alone. With so many changes, it's hard to keep up these days. First, Utah student debt holders received some bad news in June when the Supreme Court blocked President Biden's Student Loan Debt Relief plan. The plan, which would have worked to cancel up to $20,000 in student loan debt was struck down ensuring that payments—which had been put on hold due to the pandemic—would resume this fall.
However, not long afterward, on July 14, the Department of Education announced that it would begin notifying more than 804,000 borrowers of $39 billion in automatic loan forgiveness in the coming weeks. 
Those who have been on repayment plans, hold federal direct loans or federal family education loans, and have completed payments for 20 or 25 years of qualifying months are eligible for this wave of forgiveness, which can also depend on when the loan was taken out, the type of loan it is, and its specific plan. Those who are eligible and participating don't need to do a thing. The Department of Education will notify them and update their balance by next year.
But for those who won't experience this forgiveness program, many questions linger.
When are payments resuming? What do you do to ensure you make the correct payment on time? And how can you pay off your student loans as quickly as possible?
When Do Student Loan Payments Resume?
 Mark your calendars: All student loan payments are due on October 1. But technically, interest will start accruing on September 1. Therefore, now is a great time to contact your student loan provider to find out how much you owe and when your payment is due.
What Are My Payment Options Now?
If your student loan meets the qualifications for automatic loan forgiveness, you'll get a notification from the Department of Education very soon—if you haven't already. Otherwise, get ready, payments will resume on Oct. 1. For many with student loans, it's probably been a while since you've had to think about them. Now is the time to get reacquainted with your loan and its terms and conditions. Continue budgeting for these payments, and if you can, figure out a way to pay them off sooner rather than later. While we can expect to see this issue pop up in the news again and again in the future, waiting for further forgiveness or outright cancellation that may or may not ever arrive, could be a costly mistake.
Ways to Pay Off Student Loans Fast
While it may seem painful in the short team, getting your student loans out of the way as quickly as possible is strongly recommended. Student loan debt differs from other forms of debt because it can't be forgiven or canceled in the event of bankruptcy. And as the interest adds up, these debts can get bigger over time. It's advised to work towards an early payoff. Altabank's student loan calculator is a great tool to see how much you can save by building a budget and paying off your loans a little more at a time. Try it for yourself.
Here are some other ways you can get your student loans taken care of, depending on the situation you find yourself in:
1. Consider switching to a different repayment plan
There are four different types of student loan repayment plans, each serving a different kind of need depending on the borrower's ability to pay and post-schooling career prospects.
Depending on your situation, you may prefer either a standard repayment, income-driven repayment, graduated repayment, or extended payment plan. Before making the switch to a different plan, head over to the Department of Education's loan simulator. But the general rule of thumb is that any option that decreases your monthly payment will likely end with you paying more in interest overall. 
2. Pay more
Obviously, if you want to get your student loan payments over with faster, prepaying the loan is the best option. Not only will you save in interest, but you'll also be done with payments in a shorter amount of time. It's important to make sure you tell your loan provider to apply your extra payment to your principal balance instead of just toward the next monthly payment.
3. Consider Public Service Loan Forgiveness
If you go into a career putting you in the public service sector, such as government, public school, or certain nonprofit work, you may become eligible for forgiveness. To qualify, not only do you have to hold a position in public service, but you also must make 120 qualifying loan payments. This program only applies to loans and payments made under a standard 10-year repayment plan or an income-driven repayment plan.
4. Ask your provider for options
If you took out a private student loan, income-driven repayment won't be an option for you. However, some lenders offer repayment options that temporarily reduce payments. If you find yourself struggling to repay your private student loan, give your lender a call to discuss options.
If your credit score is at least in the high-600s, or you can find a co-signer with such a score, you can refinance your loan at a lower interest rate. It's worth taking the time to shop around for a new lender to get the lowest rate possible.
Student Loan Debt Forgiveness Timeline
If you do have student loan debt, you're not alone. Recent figures have stated that about 7 in every 10 college graduates in the United States leave school with student debt. In total, the country's loan debt portfolio totals more than $1.5 trillion owed by over 40 million borrowers. The average undergraduate student with loans finishes their education and heads to the workforce with nearly $25,000 in debt. This is a major part of life for many, many Americans.
The Biden-Harris administration attempted to make good on a campaign promise to eliminate or significantly reduce student debt, but the results haven't been as impactful as borrowers would like. The Supreme Court issued a decision in June to strike down Biden's one-time relief plan to cancel $400 million in student debt. In response, the Department of Education has stated its intention to pursue other means of debt relief. On July 14, the Biden-Harris announced the $39 billion relief plan to those 804,000 qualifying borrowers. For the remaining group of borrowers, the Department of Education is recommending that they resume making payments this fall while a new debt relief program is being designed.
Understandably, this can be confusing and seemingly changing all the time, Altabank is here to make life a bit easier for Utah student debt borrowers. Check out the student loan calculator or reach out to an Altabank financial expert to navigate your student repayments as quickly and efficiently as possible.
ABOUT THE AUTHOR
Kinsey Love is the Digital Marketing Manager at Altabank. She specializes in content creation and strategy and enjoys all activities you can do in the mountains.