Altabanking Ep. 10 - Could More Women in Construction Fix Utah's Labor Shortage, Supply Chain Disruptions and Housing Crisis?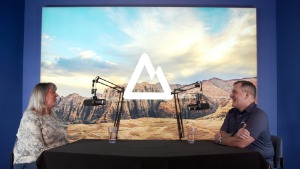 Trade professions and the businesses that support them have long been a staple of industry here in Utah. However, as the entire business world grapples with the challenges of staffing issues, supply chain disruptions, and a housing crisis, those who work in the trades are also finding new ways to adapt.
Jennie Tanner, who owns and operates her family's business, Tanner Glass & Hardware, has seen many of the issues now facing many small businesses. What makes running the day-to-day of Tanner Glass & Hardware even more interesting are the specialized skills and know-how required to supply the trade labor workforce. Leaders like Jennie have been searching for new ways, not only to expand their businesses but also to recruit new talent, including reaching out to young women who may want to work in construction.
Right now, construction is a vital industry to the future of our communities. But getting construction and trade workers up and running with the supplies and knowledge they need is an important part of the equation, as Jennie explains to explains to Altabanking host and Altabank SVP & Chief Marketing Officer, Stan Sorensen.
In this episode: 
0:49 – An introduction to Jennie Tanner and Tanner Glass & Hardware. 
2:38 – The unique position of being a woman in the trade business. 
5:35 – The products Tanner Glass & Hardware provides and how it serves its customers 
8:59 – Where are the greatest supply chain bottlenecks? 
12:27 – The challenges of managing inventory when products and supplies are at a premium. 
16:40 – What are building and construction customers looking for? 
19:04 – The importance of honesty and managing expectations with customers. 
21:28 – Has a challenging housing market created slowdowns for the store and others in the hardware business? 
24:58 – What staffing challenges are businesses in the construction industry facing 
28:56 – Professional Women in Building for the State of Utah is working to add more women to the construction trade industry. 
34:25 – How the trade professions are attracting new, young talent, beginning even in high school. 
46:49 – The importance of building affording and sustainable housing for the incoming generations.