Altabank Women In Business Contest Winners
11/10/2021
In October, we hosted our Women In Business Contest to give a platform to women-owned businesses. We encouraged different communities to interact and engage with diverse communities on social media to raise awareness of their companies.
Entrants could choose to participate in a social media contest or a short essay/short video that described the business and some of the obstacles and triumphs they experienced. All entrants all had unique stories about their journey as a woman-owned business.
We are pleased to announce the winners by category.
Winners by category:
Business & Consulting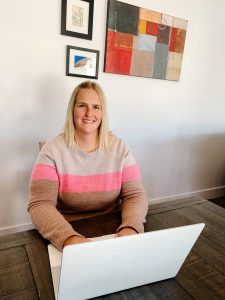 Winner: Allison Blackham


Company Name: Allie Blackham Consulting


Description of company:


The quality of online content dictates whether those people engage with it and share it with others. I own and operate a content business, striving to provide high-quality content to companies in Utah and across the nation. I'm proud of what I've achieved by running this business, as well as what I can offer to clients who want to provide engaging and valuable content on their websites, social media pages, and other marketing efforts.


Health & Personal Care (2 Winners*)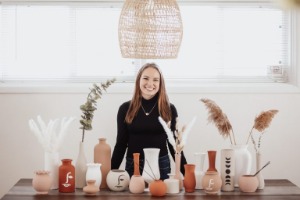 Winner (Overall Winner): Hailey Nordwald

Company Name: TerraTherapi


Description of company:


When I battled postpartum depression while living in a renovation zone, I noticed how much my environment exacerbated my mental health struggles. So, when I was looking for flexible work-from-home options, a party and home decor business was a good fit for my skills and passion. I run an internship program that empowers women to pursue flexible, high-quality work options; I have a partnership with a women business owners' mentor program in the works, and I love helping customers create peaceful atmospheres in their homes!


---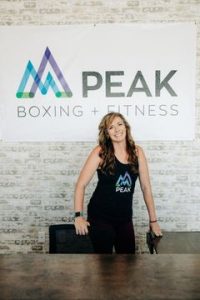 Winner: Megan Hitt


Company Name: Peak Boxing + Fitness


Description of company:


Peak Boxing + Fitness is an inclusive and judgement-free workout space that provides boutique class-size without the pretentiousness. We have recruited a diverse group of highly-skilled and down-to-Earth instructors who lead, educate, and train people from all backgrounds. With classes ranging from HIIT Boxing to Yoga, Peak Boxing + Fitness is a gym for every body. You belong here.


Food and Restaurant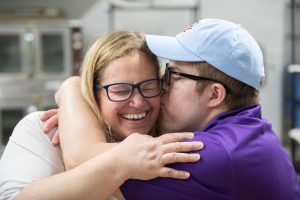 Winner: Liz Kennard Butcher


Company Name: Butcher's Bunches


Description of company:


I have been in business for more than a decade. Starting as a little mom-and-pop canning company that proliferated to sell to Utah retailers, then the US, and soon internationally, I have truly expanded the business, maintaining the focus on fresh, healthy food products (manufacturing them). However, I now offer that production to other companies along with the production of my brand(s). I white label and co-brand for several different companies from California to Pennsylvania, and a lot in-between! I have made producing GOOD FOOD something that elevates anyone's food products and is desired by consumers.
Our focus is still on sourcing local food-but expansion is natural with production growth. And we share USA farming practices and our preservation of their roots with the world. I was also able to open my first brick-and-mortar and small café in February of 2020. We sell ONLY Utah Products at The Utah Artisan Mercantile® (Food Elevated®). My son, Kenneth, who inspired us to begin, is now 26 and works alongside me in the kitchen three days a week, labeling, lidding, and doing all the duties I need him to do in our kitchen. He is amazing and brings his light everywhere. If you know Butcher's Bunches, then you know Kenneth. My husband also works alongside me every single day – in our plant. We are still that "family business." I would not have it any other way.
Retail (2 Winners*)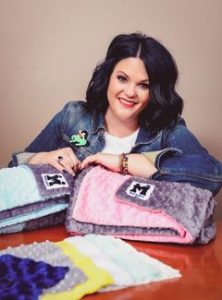 Winner: Jamie Furniss


Company Name: Moxie Blankets


Description of company:


Moxie Way Weighted and Blankets offers a chemical-free way to help ease stress, anxiety, and insomnia to name a few. All Moxie weighted blankets are made in the US and are completely machine washable. We currently have three lines: Classic, Luxie, and The Monster Protection Academy.
Our weighted blankets work because we quilt our blankets in 5-inch sections filling them with glass microbeads to ensure that the weight is evenly distributed over your body at all times. Weighted blankets work by using deep pressure stimulation which helps your body create serotonin and decreases your body's production of cortisol (stress).
Our classic and Lexie Lane appeal to the masses but our Monster Protection Academy line is very near and dear to our hearts as it was created to help kids that suffer from nightmares and bedtime anxiety. It comes with a certified MPA blanket certificate of completion and a storybook of how the blanket can help.
---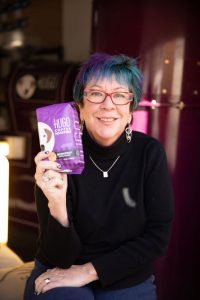 Winner: Claudia McMullin

Company Name: Hugo Coffee Roasters

Description of company:

Hugo Coffee Roasters is a female-founded and owned roasting company whose mission is to save animals. Hugo Coffee Roasters has 2 brands: Hugo Coffee and Fluffy Cow Coffee. Hugo Coffee products support domesticated animal rescues and Fluffy Cow products support farm animal sanctuaries. In my former life, I ran the animal rescue, Nuzzles & Co., and Hugo is my handsome rescue pup. Thus, animal rescue is in my DNA and that of my brand. I don't care what animals I save as long as I save animals!


Hugo Coffee Roasters impacts smaller rescues/sanctuaries nationwide and regionally via weekly weeklong online fundraisers that benefit a specific rescue/sanctuary. In partnering with Hugo Coffee, rescues reach more supporters for larger donations. And the impact is immediate and meaningful.


Other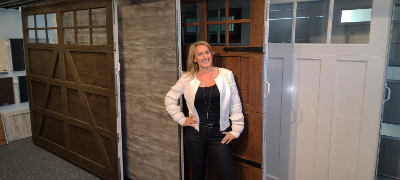 Winner: Carrie Kelsch

Company Name: APlusGarageDoors

Description of company:


We are a family-owned business that is local in Utah. We started the company in hopes of making creating the best service company. After having poor experiences with other service companies we wanted to change the face of the service industry. Our technicians are trained and certified, ensuring that you get the best garage door service in Utah.
We build lasting relationships and strengthen the community by fostering a culture of honesty, integrity, and generosity within the company. I'm proud to say that a majority of our business today comes from returning customers, many saying they wouldn't use anyone else.


*Due to no entrants for the categories "non-profit" and "entertainment". The two businesses with the next highest scores were chosen; one from retail and one from Health & Fitness.


About Altabank™


Altabank™, division of Glacier Bank, is the largest community bank in Utah.  Founded in 1905, Altabank provides loans, deposit, and cash management services to businesses and individuals from Preston, ID to St. George, UT.  Altabank is owned by Glacier Bancorp, Inc. (NASDAQ: GBCI) a publicly traded regional bank holding company headquartered in Kalispell, MT.  GBCI operates divisions in Montana, Idaho, Utah, Washington, Wyoming, Arizona, and Nevada.